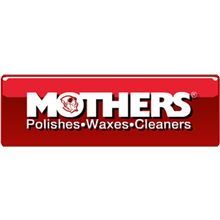 Mothers
Mothers is a car cleaning product manufacturer in America that features over 70 unique polishing, cleaning and waxing products for automotive applications.
Mothers products started back in the 1970's when aftermarket alloy wheels started to become popular, Mothers was one of the first to create a polish to be used on the wheels with its Mothers Mag & Aluminium polish. It wasn't long after when Mothers customers started to ask for a polish on their car paint panels as well, which is when Mothers California Gold cleaner & wax was born. Mothers has continued to improve and innovate the automotive cleaning product industry with new designs and products being produced to this day.

For all your Mothers high quality car care cosmetic products contact our team at Superformance, we use Mothers cleaning products on all of our show vehicles and any general polishing that we need to do. We also stock a large range of Mother's product on the shelf and anything we don't have we can source and supply direct from Mothers in the United States.
Contact us today and enquire about Mothers high quality car care products for your vehicle. We are Australia's largest supplier of Mothers car care products.
Mothers product line includes:
Metal Polishes: Mag & Aluminium Polish, Billet Metal Polish, California Gold range Chrome & Metal polish
Wheel & tyre cleaning products: including wheel cleaners for aluminium, chrome, hubcaps and tyre shine, tire cleaner
Paint Care Products: California Gold range of car waxes, car wash fluid, clay bar system, instant detailer, scratch remover, polishes and their award winning California Gold Pure Brazilian Carnauba Wax
Leather Cleaning products, leather conditioner, Vinyl care products, leather washing foam, leather cream, carpet & upholstery protectants and more
Heavy duty trim cleaner, Back to Black trim & Plastic restorer, plastic polish, rubbing compound and more
Water spot remover for glass, glass surface cleaners, headlight protective cleaner and more
A range of power cleaning products - headlight renewal cleaning kits, mothers powerball battery drill attachment designed to quickly buff metal surfaces, Mothers powercone, Mothers powerball mini, and the mothers powerball mini Metal Doctor designed to remove tough scratches and stains from polished aluminium and steel products.
and alot more Mothers cleaning products not listed
Please
Contact Us
for information on any Mothers products.
---