Differentials
Performance Ford 9" Differentials
9 inch Differential Specialists - 9" Axles, 9" Centres, 9" Housings & all other Performance Differential Components.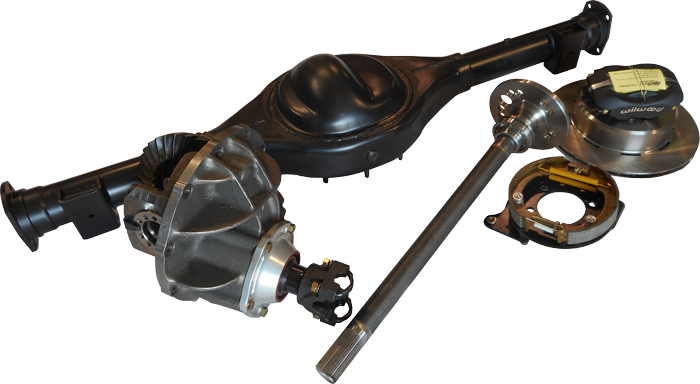 "STRONG AND VERSATILE" - That's what makes the 9 inch Ford diff so popular
Most people running performance street vehicles have had the misfortune to break either axles or a centre and once you start combining high horse power with big tyres, the inevitable occurs. The added stress is usually too much for the stock rear axle assembly.
Although it is not infallible , the 9 inch Ford rear end assembly is becoming increasingly popular because of its versatility, combining brute strength and light weight with the added benefit of a removable third member for ease of set-up and maintenance.
With a 9 inch there is an endless supply of combinations to suit your specific needs, like different centres such as; Limited Slip (LSD), True Trac, Minispool, Fullspool, Locker and Open centres, and a gear ratio selection from genuine Ford or after market sources that would cover every combination your car would require. Street gear ratios a re offered in 3.0, 3.25, 3.5, 3.7, and 3.9, while race cars would use 4.1, 4.5, 5.1, 5.4, 5.6, 5.8, 6.0, 6.2 and 6.5! No other heavy duty rear end in Australia can offer a selection like that.
Although not necessary for street use, the 9 inch can be offered with even beefier parts, like 31 spline axles, double rib carriers, thick pinion supports, Detroit locker hemispheres, or even the 'N' carrier, a high strength item made from nodular iron that was original equipment fitted to the XY GTHO Falcons. While adapting the Ford rear-ends to other vehicles isn't totally unknown, modifying the assembly for swapping into these different makes of cars is generally conceded to be beyond the mechanical ability of the average mechanic.
The placement and welding of the unit must be extremely precise in order to positively locate the differential.
The slightest error in mock-up can and usually will cause problems. Superformance offer a variety of 9" Diff modifications, readily available as "off the shelf", bolt-in replacements as well as custom designed narrowed or modified units.
Basically, most 9 inch Ford diff conversions will only require a tail shaft modification to fit, but sometimes, sway bars may have to be alerted.
Wherever possible, standard brake systems off your own vehicle are retained along with standard width. Disc brake conversions are not out of the question.
So before you break anymore parts maybe its time to consider changing to a 9 inch , with the right set of gears, you can unlock your cars true potential.

Interested in getting some Axles made up? Then have a look at our Axle Measuring Guide (.pdf)
Please Contact Us for all of your Differential Enquiries
---