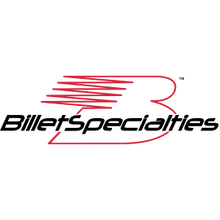 Billet Specialties
Billet Specialties established in 1985 is the industry's most recognisable name for quality machined accessories and billet wheels.
Billet Specialties is a name that implies Street Rod or Hot Rod. Synonymous with quality, Unlike other competitors of theirs, Billet Specialties products are all designed and made in the U.S.A.

With hundred's of products for accessories and over ninety different wheel styles available Billet Specialties has the most extensive range of USA made machined products. Offering a wide range of wheels, interior & exterior accessories, steering columns, steering wheels, brackets, adapters, engine dress up kits, serpentine kits and many other parts available.
With a cutting edge design and manufacturing team in the USA, Billet specialties has some of the most innovative designed products in the Street Rod/hot Rodding industry.
Billets Specialties quality control practices are unrivalled, every piece is inspected for fit and finish in each phase of production. This equates to quality assurance at 5 to 6 process points before final inspection. Strict quality control and precision machining insure a flawless product time after time.

Here at Superformance we are an authorised Australian dealer and supplier of the complete range of Billet Specialties products.
We keep a large selection of Billet Specialties products on the shelf and in stock. We can get any part not listed here from Billet Specialties as well. Superformance has been a leading supplier of Billet Specialties parts in Australia for many years.

If you are interested in Billet Specialties wheels have a look at our Wheel Order Form (.pdf) or our Wheel Measuring Guide (.pdf) to assist you in choosing the right size for your vehicle. All billet wheels are made to order and are of the highest quality among wheels in the industry, Billet Specialties wheels are the best option for your Hot Rod, Street Machine, Street Rod or other vehicle.

Please Contact Us if the Billet Specialties product you are looking for is not listed on this site.
---