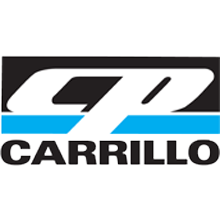 CP-Carillo Industries
CP-Carillo Industries produce high quality industry-leading Pistons and Conrods for an enormous selection of vehicle applications.
CP Pistons and Carillo industries have merged into the new CP-Carillo Industries with one goal in mind, to provide the automotive industry with High quality Performance products.
CP-Carillo cover all common engine applications on a huge range of vehicle makes, even selling a selection of pistons for Holden applications aswell.

If you need a set of CP pistons or Carillo Conrods in Australia, then contact the team at Superformance to assist you with getting the correct product for your vehicle application. Superformance use CP Pistons and Carillo Conrods on engine builds as well as selling CP-Carillo products individually, We can ship out CP-Carillo products to anywhere in the world.

To see the full range of CP-Carillo Industries products, check out their online catalogue pdf by clicking the link below.
CP Carillo 2013 Online Catalogue (.pdf) 7Mb

Please Contact Us for information on these products.
---