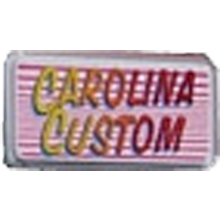 Carolina Custom
Founded in 1985 as a small business with one product, Carolina Custom have streadily grown to offer a line of unique products, most of which were conceived to fulfill a particular need in the street rodding hobby.

Carolina Custom are a small manufacturing company in America that produces a unique line of products for the street rodding community. Alot of their products started as a completely new design created to fulfill a particular need in the industry and as a result Carolina Customs have won several NSRA best New Street Rod Products Awards over the years.
Superformance uses and sells Carolina Custom products for street rodders here in Australia, if you need a Carolina Custom product then contact the team at Superformance.

Some of the products Carolina Customs have created are: Door Latch Kits & Hardware, Slick Door prop Rods, Suicide door latch kits, Door jam Wire Eliminators, Hidden Hinge Kits, Trunk Hinges, Hood Caddies Sliding and non Sliding, Hood / Hinge Latch Systems, Release Cable Kits, Universal Trunk Lift Kits and many more.

Please Contact Us for any more information on these products.
---