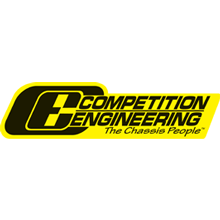 Competition Engineering
Competition Engineering have been designing and manufacturing the finest in chassis and suspension components for both street and strip applications since the 90's. The team over at Competition Engineering are known as The Chassis people, because they meticulously develop complex designed products through CAD programs and then track test all of their products before releasing them to the public, ensuring that all of their products improve performance and durability on the vehicles they are applied to.
Whether you are building a Street Rod or a Drag Car if you need industry leading chassis components then contact the team at Superformance and ask about Competition Engineering.

Products produced by Competition Engineering include: Rear Frame Kits, Frame Rails, Frame Connectors, Ladder Bars, Traction Devices, 4-Links, Rear Axle and Suspension, Anti-Roll Bars, Rod Ends, Driveshaft Loops, Transmission Mounts, Shocks, Springs, Wheel-E-Bars, Roll Bars, Sheet Metal, Steering Components, Bushings, Engine Mounting, Tabs & Brackets, Electrical Components and more.
Contact the team at Superformance today to get your Competition Engineering products underway.
Superformance can supply any Competition Engineering product or part needed for your vehicle, we can ship parts out worldwide or have them available for pickup in our Capalaba, Queensland, Australia Store.

Please Contact Us for information on these products.
---