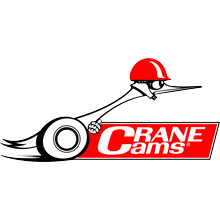 Crane Cams
Crane Cams are an American Camshaft manufacturing company that produce high quality performance camshafts for a large range of engine sizes and applications. Crane Cams have the largest camshaft database in the industry with an overwhelming 80,000+ product options, together with their enormous manufacturing facilities and their highly experienced technical staff Crane cams are able to provide the aftermarket automotive industry with precisely machined Performance Camshafts.
Crane Cams products include: A large range of Camshafts including Mechanical and Hydraulic rolling camshafts and flat tappet camshafts, Hydraulic and Solid Lifters, High performance Mechanical and Hydraulic Rocker Arms, Valve Train, Distributors, Ignitions, Coils, Replacement Points and Spark Plug Lead sets.

Here at Superformance we are Australia's leading supplier of Crane Cam's products. We can source and supply any Crane Cams product you require for your vehicle, contact us for more information on Crane Cams products or to source parts for you.

Please Contact Us for information on these products.
---