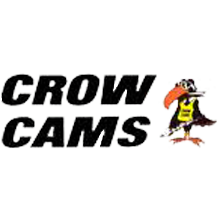 Crow Cams
Crow Cams are an Australian manufacturer of Camshaft and valve-train components, they have been producing leading edge camshafts and components right here in Australia for over 30 years. Crow cams have the most advanced cam development and CNC grinding facilities in Australia and their products are of the highest quality.

Crow Cams products include: High Performance Camshafts, Stock Cam's, Valve Springs, Shims, Retainers, Lock, Seals, Pushrods-Hi Carbon & Chrome Moly, Computer Cam Kits, Timing Sets, Gaskets, Valve Train Kits, Roller Cams, Lifters & Roller Lifters, Gear Drives, Balancers, Roller Rockers and Camshaft Oils / Chemicals.

Camshafts produced by Crow are available for the following vehicle manufacturers and engine types:
Chevrolet Big Block V8, Chevrolet Small Block V8
Chrysler HEMI 5.7 & 6.1, Chrysler HEMI 6, Chrysler Small Block V8 273-360
Ford 6 cylinder, Ford Cleveland V8 302c-351c, Ford Windsor V8, Ford Big Block V8, Ford OHC 6, Ford 4 cylinder
Holden Gemini, Holden 6 cylinder, Holden V6 EFI & V8 EFI, Holden 253, 308 V8, Holden 304/355 V8 VN-style heads
Chevrolet/ Holden LS1, LS2, LS6, Chevrolet/ Holden L98, LS3, Chevrolet/ Holden LS V8 3-bolt
Nissan
Toyota

If you need any Crow Cams parts then contact us at Superformance, we are a Brisbane Distributor for Crow Cams Products and we can provide you with any Crow Cams parts you require.

Please Contact Us for information on these products.
---