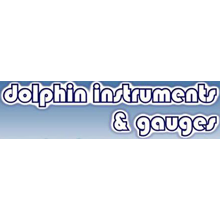 Dolphin Instruments & Gauges
Dolphin Instrument & Gauges are manufacturers of precision, high quality, reliable gauges for the automotive industry. Over the years they have worked to bring you the perfect gauges for your needs. they have listened and made changes to the design to make our gauges into the quality designs used today.
The Dolphin line of gauges are available in many colors: White, Gold, Aqua, Tan, Black and Gray. Dolphin Instruments has a style and color gauge set to compliment any custom interior. Their line of great looking, high quality gauges feature the finest air core movements available, glare free lighting, stylish curved glass lenses and polished stainless or gold bezels. The electronic sets include a fully programmable electronic speedometer for easy calibration with any tire size/axle ratio.

Dolphin Gauges & Gauge Sets are available in:
5 Gauge Mechanical Sets, 6 Gauge Mechanical Sets, 5 Gauge Programmable Sets, 6 Gauge Programmable Sets, 5" Mechanical Quad Sets, 5" Electronic Quad Sets, 3-3/8" Mechanical Quad Gauge Set, 3-3/8" Electronic Quad Gauge Sets, Metric Gauge Sets, Shark Gauges, Tacho's, Clocks, cables, adapters and misc gauge accessories

Dolphin Dash Panels & Inserts include:
Ford Car & Pickup Truck Dash Panels, Chevrolet Car & Pickup Truck Dash Panels and Universal Dash Panels

Dolphin Billet Automotive Accessories include:
Door Accessories, Wiper Accessories and Window Accessories

Contact Superformance for all of your Dolphin gauge enquiries, we are Australia's leading supplier of all gauge components offered by Dolphin.

Please Contact Us for information on these products.
---