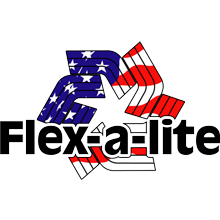 Flex-a-lite
Flex-a-Lite are manufacturers of automotive performance cooling solutions, they produce products such as Radiator's both direct fit to popular American vehicles and in set dimensions, Radiator Fan combination kits aswell, Electric fans both universal and application specific including some diesel options aswell, Belt fans & accessories such as spacers & adapters, Fan clutches, Oil Coolers & Accessories, Transmission & Engine Oil Cooler Kits, Sandwich adapter kits, Mojave Heaters and more.

Flex-a-Lite have been manufacturing cooling products since 1962 where the original owner came up with the concept of the first flex fan which at the time was a simple design of hand-cut fibreglass roofing material turned into a fan, the idea was simple; the fan had to be lightweight and flatten out at high rpm to reduce drag and increase horsepower delivered to the wheels as a direct result.

If you need any Flex-a-Lite products contact the team here at Superformance, we are Australian suppliers of all flex-a-lite products and we usually stock a range of their fans on the shelf, so if you need a flex a lite fan contact us at Superformance today.

For a complete look at Flex A Lite products available, check out their catalogue below.
Flex-A-Lite Catalogue (.pdf) 4.2Mb


Please Contact Us for information on these products.
---