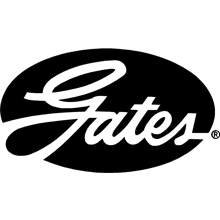 Gates
Gates are aftermarket automotive manufacturers that create belts, hoses and hydraulics for the automotive industry.
Their product range includes:
Accessory Belt Drive Systems - Micro-V Belts, Serpentine Belts, Belt Tensioners, Idler Pulleys, Alternator Decoupler pulleys, Overdrive couplers and kits, torsional vibration dampers and more
Timing Belts & Timing Component Kits
Cooling System Components - Coolant Hoses, Heater Hose, Thermostats, Pressure Caps, Hose Clamps and more.
Water Pumps
Power Steering Hose PS188 & Power Steeering return line hose without couplings
Fuel Injection Hose, Carburetted Fuel Hose, Submersible Fuel Line Hose, Fuel Filler Necks,
Transmission Oil Cooler Hose
Power Brake Vacuum Hose, AB Series Air Brake Hoses
Air Intake Hose / Defroster Hose, Turbocharger Hose, Emission Control Ducted Hose, Ring Retained Turbocharger Hose and more
Windshield Washer Vacuum & Radiator Overflow Hose, Silicone Vacuum Tubing (EGR Hose) & DPFE Hose
For a complete look at what products Gates has to offer, look at their catalogue here:
Gates Products Master Catalogue (.pdf) 8.8Mb
Contact our team at Superformance for all of your Gates product needs, we are an Australian supplier of Gates products and we can supply any product you may need. Contact us today and enquire about Gates Belts & Hoses.
Please
Contact Us
for information on these products.
---