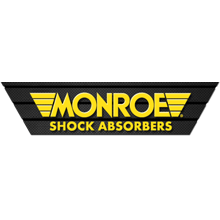 Monroe
Monroe are a premium manufacturer of aftermarket shock absorbers for automotive applications, they produce a wide range of shock absorber styles to suit all kinds of vehicle uses, including 4X4 Off-Roading applications, Street applications, Drag/Racing applications and more.

For all your Monroe enquiries contact our team at Superformance, we are Australia's leading supplier of monroe Shock Absorbers, we can source and supply any shock absorber product from Monroe, contact us today and enquire about Monroe Shocks for your vehicle.

Monroe has several styles of shock absorbers to choose from, these are listed below for ease.
Gas Magnum TDT 4x4 Extended Length Shock Absorbers.
These are one of Monroe's best selling shocks in Australia to suit 4WD applications, these shocks are specifically engineered to be used on upto 50mm raised height four wheel drive applications.

GT-Gas Shocks with exclusive Reflex Technology
Delivers excellent vehicle handling and stability without compromising comfort

Monroe OE Spectrum Shock Absorbers
Featuring the latest in global Original Equipment valve technologies

Gas Magnum TDT Shock Absorbers
Combining Tenneco's Twin Disc Technology with Monroe's durable replacement 4x4 Shock Absorbers, these are the standard height versions of the above listed shocks.

Magnum Heavy Duty Shock Absorbers
Designed for light truck and Commercial truck applications, Magnum HD Shocks are focused on a durable and reliable shock for the trucking industry.

GT Sport Shock Absorbers
Lowered performance shock absorbers designed for street applications, these shocks combine Monroe's performance and reliability with King Springs race bred lowered shocks to create the best performance lowered shock on the market for passenger vehicles.

Gas Riser Shock Absorbers
A versatile gas pressurised heavy duty shock absorbers that allows for ride height adjustment. Ideal for applications that operate under varying load and towing conditions.

Gas Magnum Shock Absorbers
Super duty gas charged shock absorbers, designed for light truck, 4x4 and commercial vehicle use on road and off road.

Monroe Original Shock Absorbers
Designed to meet or exceed OEM motor vehicle standards, the Monroe Original Shocks are designed to suit a wide range of manufactured vehicles including: Chevrolet, Holden, Ford, Toyota, Mitsubishi and more. Available in gas pressurised and standard hydraulic options, depending on the vehicle.

Monroe Steering Damper
Designed to absorb vibration and shock from irregularities on the roads such as potholes, rocks, cracks etc. These are ideal for use on offroad 4x4 vehicle applications.

Monroe Max Lift Gas Struts
Monroes gas struts are applicable to boots, bonnets, latches and other similar uses where a gas strut is required. They are a sealed gas filled pressure cylinder that exerts an outward force in order to hold open objects.

Monroe also offer their range of 'Strut-mate' protection Kit and Mounting Kits, which are designed to provide optimal fit and performance alongside Monroe shock absorbers and to protect your suspension from being damaged.
Also Monroe produce a product 'Magic Camber' which is designed to allow changes to the camber of vehicles fitted with Monroe Strut Suspension products.
Please
Contact Us
for information on these products.
---