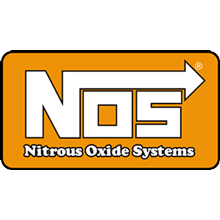 NOS
NOS is the leading brand in Nitrous Oxide Systems, NOS manufacturers a wide variety of Nitrous kits to suit a range of automotive applications including carburetted systems, electronic fuel injection systems, hidden nitrous systems, direct port systems and their powersport systems. The Nitrous kits offered are available in wet (mixed with fuel on entry) and dry (Nitrous Oxide Gas injected directly into inlet) applications depending on the system you want to install in your vehicle. NOS Kits come in a range of styles including: Cheater Kits, Powersport kits, single shot kits, Big shot kits, Sniper Kits and application specific kits for certain popular models, in diesel and petrol.

NOS is a part of the Holley manufacturing group alongside with performance product brands such as: Holley products, Hooker Headers, Earls Performance Plumbing, Weiand, Flowtech Exhaust and Demon Carburettors. When you buy NOS products, you are purchasing a quality trusted product that has been the leader in Nitrous Oxide products for several decades.

For all your NOS kit needs contact our team at Superformance, we are Australia's leading supplier of NOS and we can supply any NOS product required for your vehicle, so contact us today and enquire about a NOS kit for your vehicle.

For a complete look at available NOS kits, sizing and application use; check out Holley's NOS Catalogue here: NOS Catalogue (.pdf) 5.9Mb

Please Contact Us for information on these products.
---