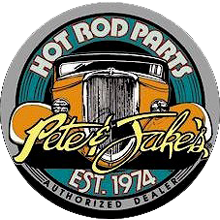 Pete & Jakes
Pete and Jakes are manufacturers of aftermarket Street Rod Chassis components for early model Ford Hot Rod applications including: A Model Fords, 1932 Fords, 1933-1934 Ford's and 1935-1948 Ford models.

Contact our team at Superformance for all of your Pete and Jake's needs, we are Australia's leading supplier on Pete and Jakes Hot Rod chassis components, we can source and supply any Pete and Jake product requried for your vehicle, so contact us today and enquire about Pete and Jakes products for your Rod.
Pete and Jakes Chassis & Suspension Components available include:
Complete Independent Front Suspension Kits
Complete Suicide Front End Kits & Components
Superbell I Beam Axles
Posies Super Slide Front Springs
Sway Bar Kits
Hairpin Kits
4 Bar Kit, and 4 Bar Kits to suit Vega Steering set ups & Mustang Steering set ups
Vega Steering Plates
Panhard Rod Kits & Panhard Bar's
Bolt on or Weld on Front Shock Absorber Kits
Motor Mount Kits
Master Cylinder Mounting Kits
Front Crossmembers
Brake Pedals
Transmission Mounts
Rear Ladder Bar Kits
Panhard Bar Kits for rear coilover suspension
Coil Shock Suspension Kits
Rear Spring Mount Kits
Rear Shock Mount Kits
Master Cylinder & Booster Assembly Kits
Brake & hydraulic Clutch Assemblies
Rear 4 Bar Kits - in a Triangulated 4 bar kit or standard
Adjustable four bars
and many more, refer to the catalogue below for a complete list of products.
For a more thorough look at Pete and Jakes product line, check our their catalogue here:
Pete and Jakes Street Rod Catalogue (.pdf) 13.5Mb
Please
Contact Us
for information on these products.
---