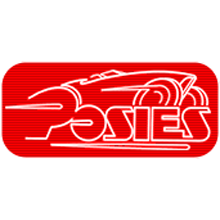 Posies
Posies are manufacturers of aftermarket early model Ford & Chevrolet Chassis and Suspension components. Posies are a long standing company in th e Street Rodding industry and their expertise and knowledge when it comes to street rod components is unparalleled.
Posies famous Super Slide Springs are superbly designed to for comfort and durability, each spring undergoes several testing cycles and defection tests before being sold; Posies product quality control is unmatched in the industry, you can trust a Posies product to do it's job with ease and no failures.
The best place to find Posies Springs and other products is from our team at Superformance in Australia, we are a Brisbane based supplier of all Posie's products and we can source/supply any product you may need.

Posies Product's include:
Posies world renowned Super Slide Leaf Springs
1928-1934 Ford Front Springs & Clamps
1928-34 Ford Front End Kits
1928-34 Ford Suspension Parts
1928-34 Ford 'Elliptaslide' Kit
1928-34 Ford 4-Bar Kits, Hairpins and Panhard Bars
1928-34 Ford Steering Components & Shocks
1928-34 Ford Brakes and Components
1928-34 Ford Rear Springs
1928-34 Ford Rear Suspension Components
1928-34 Ford Parallel Rear Spring Kits


1935-48 Ford Front Springs

1935-48 Ford Ford Front End Kits

1935-48 Ford Suspension Parts

1935-48 Ford Brake Components

1935-1956 Ford Rear Springs & Kits

Mustang II (2) Suspension Kits and Parts

1933-1957 Chevrolet Rear Springs & Kits
57 Chevrolet Suspension Kits, Brakes & Parts

Mopar Leaf Springs
Universal Parallel Rear Spring Kits
Ford and Chev Truck Springs & Parts
For a more detailed look at Posie products, check out their online catalogue here:
Posies Street Rod Catalogue (.pdf) 12Mb
Please
Contact Us
for information on these products.
---