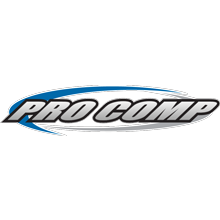 Procomp USA
Procomp are an American manufacturer of offroading products, they produce a large range of Wheels, Tyres, Suspension Kits, Lighting and Accessory products for offroading automotive applications.

For all your Procomp Suspension, Wheels, Tyres or lighting needs contact our team at Superformance, we are Australia's leading supplier of Procomp components and we can source & supply any product you may need for your vehicle.

Procomp Product range includes:
Offroad Tyres - see below for their range
Wheels suitable for Offroad use - find all Procomp wheels available here:

Procomp Wheels (.Pdf) 5.5Mb

Suspension Kits - Lift Kits, Nitro Kits, Level Lift, Shocks, Accessories and more (See Below)
Lighting accessories & products including LED, HID and Halogen lighting kit options
Offroading Accessories
Procomp USA Suspension Products
Procomp manufactures a wide range of complete suspension system kits to suit pickup trucks and SUV's. These Kits are specifically designed to improve handling and quality of ride by using only quality componentry. All Procomp Lift Kits are backed by their Procomp Promise Liftetime Warranty. Procomp Lift Kits range from 2" up to 8" lift, and most of their kits include shocks, contact us today and enquire about a Procomp Suspension kit for your vehicle.
Procomp's Nitro Kits are a great solution for increasing your ride height at an affordable price, The kits come with components such as coil spacers, strut spacers and torsion bar keys to lift your vehicles height without the need to replace all of your factory suspension components. Which allows you to run larger tyres whilst still being able to maintain your vehicles factory ride characteristics. Contact our team at Superformance for more information on a Nitro Kit for your vehicle.
Procomp's Level Lift Kits are designed to rid your truck of the ugly factory nose down stance by levelling out your vehicle front and rear, the kits also provide enough room for larger tyres whilst maintaining your stock steering and suspension components. Procomp's Levelling kits are easy to install and an affordable way to improve your vehicles stance and make room for some meaty big tyres. Contact Superformance today and enquire about a levelling kit for your ride.
Whether you're upgrading worn components or simply upgrading your vehicle; Procomp's Shocks are an upgrade that can improve your vehicles handling and performance on and off the road. Procomp's Shocks are tuned for specific applications and they come in a range of replacement shocks all the way up to remote reservoir racing shocks, Contact our team at Superformance today and enquire about a set of Procomp shocks for your vehicle.
Procomp also offer a wide range of Suspension accessories and components to suit a wide range of vehicle applications. From steering stabilizers and dual shock mounts to skid-plates and traction bars, Procomp produces all the components you could ever need for your ride.
Contact our team at Superformance today and enquire about Procomp Suspension components for your vehicle.
Procomp USA Offroad Tyres Available featured below
Xtreme MT2
Maximum Traction
Extreme
Offroad Tyres
Xtreme A/T
Performance
All-Terrain
Procomp Tyres
XTerrain
Premium Offroad
Tyres
XTreme TRAX

Contact us in regards to tyre sizing options and any other Procomp USA enquiries.

Please Contact Us for information or to purchase any Procomp USA product.
---