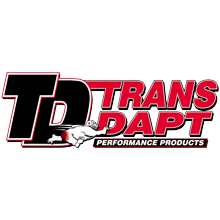 Transdapt
Trans-Dapt is an American manufacturer of aftermarket automotive products designed to primarily be used in engine and transmission conversions. Trans-dapt has a unique range of products, many of which no other manufacturer even produce.

For all your Trans-Dapt product enquiries contact our helpful team at Superformance, we are Australia's leading supplier of all Trans-Dapt Parts & Products, we can supply any part required for your vehicle project. Contact us today and enquire about Trans-Dapt products for your vehicle.

Trans-Dapt Products include:
Slam-Guard Heavy-Duty Armor-Plated Pans
Perfectmatch Powder Coated Engine Accessories
Adapters
Air Cleaners
Brackets
Brakes
Carburetion
Cooling System
Custom Accessories, Misc
Differential Covers
EGR Block-Off Plate
Electrical
Electronic Fuel Injection
Engine Dress-Up Kits
Engine "Swap In A Box" Kits
Fuel Systems
Gaskets
Header Accessories
Hood Accessories
Ignition
Motor Mounts / Engine Mounts - including engine conversion kits.
Oil Filtration
Oil Pans
Pedals
Pulleys
Shop Equipment
Throttle
Timing Chain Covers
Transmission
Vacuum System
Valve Covers
Wheel Products

Please
Contact Us
for information on any Trans-Dapt products.
---