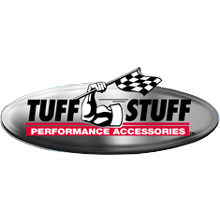 Tuff Stuff Performance
Tuff Stuff Performance are an aftermarket Accessories manufacturing company that has been family run for over 30 years. Tuff Stuff produce top-shelf products for all kinds of automotive applications including popular Ford, GM and Chrysler applications.

Tuff Stuff Performance Products include:
Stock and gear reduction starter motors with multi-indexing mounting bases to suit multiple applications.
Stock replacement or super-cooling water pumps fitted with high performance impellers.
Reverse rotation water pumps are available aswell to suit serpentine drive set ups.
One wire universal alternators and stock style wiring hookups to suit Ford, GM and Chrysler applications, Alternators ranging upto 200 amps.
Master Cylinder and Brake Boosters in chrome for all kinds of applications including hot rods, muscle cars, pickup trucks / SUV's and other performance vehicles. Available to suit drum-drum setups, drum-disc setups and 4 wheel disc setups.
For a complete look at Tuff Stuff's product line look at their catalogue here:
Tuff Stuff Performance Accessories Catalogue
All Tuff Stuff Performance Accessories are assembled in and made in the USA, with all plating, polishing and powder coating done in house by Tuff Stuff themselves to maintain their high standards on all of their products.
If you want quality made Accessory products made in the USA, then Tuff Stuff is the brand you want; And the best place to get Tuff Stuff is right here at Superformance. We are Australia's leading supplier of Tuff Stuff Accessories, we stock a range of their products and we can supply any Tuff Stuff product required for your vehicle. Contact us today and enquire about Tuff Stuff Performance Accessories for your vehicle.
Please
Contact Us
for more information on these products.
---