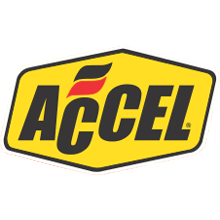 Accel
Accel is a name you can trust when it comes to ignition and fuel system products. The team at Accel Ignition are dedicated to delivering the best products in the automotive industry when it comes to ignition and fuel systems. Their innovatively built products have solidified their name in the Automotive Racing scene.

Whether you are building a Car for the race track or just an everyday driver, Accel products have something to offer you. Here at Superformance we use Accel products in a lot of our inhouse builds aswell as keeping popular products on the shelf for most common V8 Motor applications.

If you need Accel Ignition parts in Australia contact us at Superformance, we can supply all of their products including: Accel Ignition Spark Plug Leads, Accel Super Coils, Spark Plugs, Distributors and Dizzy Caps, Fuel Pumps and Fuel Injectors.
For a complete list of their products, have a look at the online catalogue below:
Accel Ignition 2013 Online Catalogue (.pdf) 16.9Mb

Please Contact Us for information on these products.
---