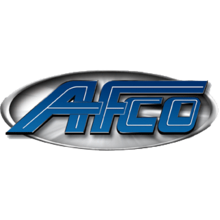 AFCO
AFCO Racing & Performance parts started out with shocks and suspension components over thirty years ago; As the time has passed AFCO have grown to become one of industry leading producers of not only shock absorbers & suspension but also exhaust parts, brake parts and performance cooling products.

Superformance is Australia's Leading supplier of AFCO Racing & Performance products, we have been using AFCO Shock absorbers and Transmission Coolers inhouse on our car builds for years.
AFCO is a trusted name when you want performance, the team at AFCO are passionate about building better products for racing and performance vehicles; which is why AFCO products are used amongst many racing enthusiasts around the world.

AFCO Racing & performance products include parts such as coil over's, adjustable shock absorbers, leaf spring kits, shackles, mounts, spindles, rod ends and much more suspension products. With their cooling products such as Radiators, transmission coolers, catch cans, thermo fans and more.

For a complete look at AFCO products for your vehicle, have a look at their online catalogues below and then contact the Team at Superformance to source all your AFCO parts.

AFCO 2015 Catalogue - High Performance Muscle Car & Drag Car Applications (.pdf) 100Mb
Or
AFCO 2015 Catalogue Street Stock and Modified Applications (.pdf) 48.5Mb

Please Contact Us for information on these products.
---