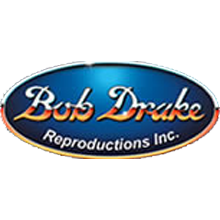 Bob Drake Reproductions
Bob Drake produce over 7,000 products for the Automotive Hot Rodding community, Bob Drake is the industry leading manufacturer of Ford Parts for all 1932, 1933-34, 1935-36, 1937, 1938, 1939, 1940, 1941 and 1942-1948 Ford Cars (Coupes, Sedans, Tudors) and 1932-1966 Pickup Trucks. Bob Drake is one of the only remanufacturers of these early parts that is licenced by Ford Motor Company to make and produce Ford trademarked parts.

If your building an early Ford Hot Rod, or simply restoring an early Ford vehicle then Bob Drake will have the parts you need. Producing a huge range of products in almost all categories needed to get your Hot Rod on the road.
Products such as Aftermarket and reproduction accessories, Lights, Grilles, Radiator components and mounting accessories, Engine; Drive Train & Battery Accessories, Trim pieces for all aspects of the vehicle, Wipers, Windshields and Windshield accessories, Windows, Doors, mirrors, Interior Accessories, Dash's and Dash Accessories, Bumpers & Accessories, Hub Caps, Rings & Wheels, Running Boards, Covers 7 trim, Reproduction Gas Tanks, Sheet Metal Patch Panels and Aprons, Trunk and Hinges / Handles & Seals and much more.

Superformance keeps on h and a large selection of Bob Drake Reproduction products for Hot Rods and Street Rods alike.
If you need a Bob Drake part in Australia, then contact the team at Superformance.

Please Contact Us for information on these products.
---