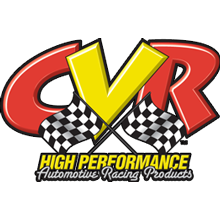 CVR High Performance
CVR High Performance Automotive Racing Products produce premium quality car components for the industry.
CVR make products such as:
Water Pumps to suit Chevrolet and Ford applications in standard and Hi-Flow, as well as Water pump accessories and components – Thermostat Housings, water pump block offs, water pump backing plates and service parts.
Oil Pumps in Aluminium and Steel, as well as Oil Pump Drive Shafts, Oil Pump Rebuild Kits, Oil Filter Mounts, Oil Accumulators and Repair parts.
Starter Motors for Chevrolet, Ford, Chrysler, Jeep and Pontiac/Oldsmobile applications; along with Starter motor Components such as Solenoid repair kits, pinion gears, idler gears, armature gears, clutch assemblies, shim kits, drive end plates and Flexplates.
Alternators in a range of amperage 50A, 75A, 100A and their powerhouse Billet 200A alternators; CVR also sell low mount and mid mount alternator bracket kits to suit and Accessory Drives and components for Chevrolet LS applications.
CVR Billet Accessories include Timing Covers, Timing Pointers, Nitrous Bottle Brackets, Throttle Linkage setups, Distributor Hold down Brackets, Fuel Pump Block Off plates and Carburettor Spacers.
12 Volt Electric Vacuum Pump's in Billet and standard as well as vacuum pump accessories & repair kits.
Here at Superformance we use CVR products and can supply any CVR part that you may require on your vehicle. If you need CVR components anywhere in Australia or even the world! Contact us at Superformance to get your CVR products underway.
Please
Contact Us
for information on these products.
---