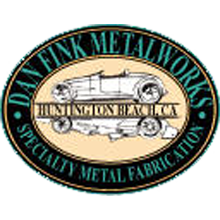 Dan Fink Metalworks
Dan Fink Metalworks is a Californian based Street Rod Specialized Parts manufacturer; that produce a select number of unique products for the Hot Rodding Industry.. The Dan Fink Team consists of a number of Craftsmen that are only interested in making supreme quality products. The team at Superformance have used the Dan Fink Product on many ocassions and have found the product to be a step above the rest.
Superformance sells Dan Fink Products in Australia, over the counter at our store or we can ship out any Dan Fink Product worldwide.
The popular products we sell for Dan Fink are their Retractable number plate kits, Dan Fink Hood Latch Kits and their Dan Fink Hot Rod Grille Inserts to suit Ford 1932 / Ford 1933 / Ford 1934 Street Rods. The grille inserts come in cold rolled steel or Stainless Steel, in either straight or curved bars.
Contact the team at Superformance if you are interested in only the best quality, the Dan Fink Quality.

Please Contact Us for information on these products.
---