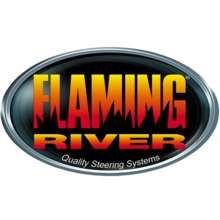 Flaming River
Flaming River is America's Leading Manufacturer of aftermarket steering components for Street Rods, Muscle Cars, Classic Cars and Street Machines; for more than twenty years. Flaming River manufacturers a wide range of Quality USA Made Steering Components and Electrical parts to suit all your vehicle's needs. Their motto is if it does not say Flaming River it is not good enough.

Here at Superformance we are Australia's Leading supplier for Flaming River Products and Parts, we offer a wide variety of all their products including Flaming River Steering Columns Laser-Cut with or without tilt depending on your vehicle, Billet Aluminium Steering Wheels available in a multitude of Designs and sizes, A wide range of Quality made billet or stainless steel Universal Joints in polished or unpolished, Rack and Pinion Steering upgrades in a wide variety as well as some Right Hand Drive Rack and Pinion kits available, Steering Wheel adapters, Column Drops and much more.

Interested in Quality Flaming River Steering column then have a look at our Floorshift Steering Column Order Form (.pdf).

Please Contact Us if the Flaming River product you are looking for is not listed on this site, or have any queries regarding a Flaming River Product.
---