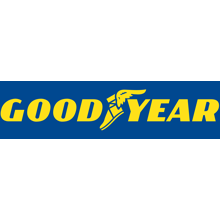 Goodyear Tyres
Goodyear Tyres are a tyre manufacturer that produces quality and durable tyres for the automotive industry.
Ranging from everyday street use tyres up to high performance racing track tyres, goodyear has a tyre for every situation.

Goodyear is one of the largest tyre manufacturers in the world, with an enormous 56 facilities world-wide in 22 different countries Goodyear has a worldwide presence in any tyre market. With their product line offering tyres for Car's 4WD/Offroad vehicles, light commercial vehicles, Pickup Trucks, Trucks and even Tractors/Agricultural vehicles.

Contact our team at Superformance for all your Tyre needs, we are an Australian supplier of goodyear tyres and we can source any goodyear tyres you need for your application.

To find the right tyre for your application have a look at goodyears website with the link here: Good Year Tyres Website

Please Contact Us for information on these products.
---