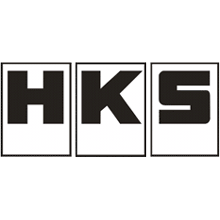 HKS
HKS are a Japanese manufacturer that make high performance products for aftermarket automotive Japanese import vehicles and other similar applications. Their initial objective when the company first started back in 1973 was to design and build high performance engines and components that major OE manufacturers could or would not produce.
HKS still keep to this objective to this day, producing top quality aftermarket performance products for a large range of vehicle and engine applications, that far outshine their competitors products. If you want performance in your Japanese Imported vehicle here in Australia, then you will want HKS products and the best place to get HKS products is from our team at Superformance, we are an Australian supplier of HKS products located on Brisbane's bayside at Capalaba, Queensland; We can source any part or product you need from HKS. Contact us today and enquire about HKS products for your vehicle.

HKS Product line includes the following:
Exhaust System Kits & Components
Suspension Parts
Intake manifolds and Components
Electronic Products - Boost Controllers, Computers / ECU, Monitors, Speed Limiters, Turbo Timer's, Compensators, Meters, ignition and more.
Blow Off Valves & Components
Cooling Products - Intercooler kits, oil cooler kits, Piping kits and other components
Turbo Components - Turbine Kits, Wastegates, actuator upgrade kits, power assist kits and more
Supercharger kits & Components
Fuel Products - injector upgrade kits, fuel pumps, fuel upgrade kits, fuel regulators, fuel delivery kits and more
Engine Components - Cylinder Head Parts, Camshafts & Valve spring sets, cam pulleys, piston and ring kits, connecting rods, timing belts, v belts, gaskets, oil pump upgrades and more
Powertrain Components - Clutches, Transmission gear kits, oil pans and more
Brake Upgrade Kits & Brake Components
Oil Filters & Oil Fluids
Spark Plugs
Vehicle Specific components for Toyota 86 / Subaru BRZ | Nissan R35 GT-R Skyline | Honda S2000 and Subaru WRX applications.
Please
Contact Us
for information on these products.
---