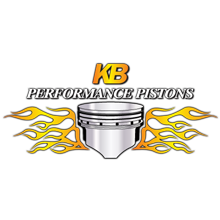 KB Pistons
KB Pistons are a performance line of pistons manufactured for the aftermarket automotive industry by UEM (United Engine & Machine). UEM are the manufacturers of a select group of Piston brands including KB Performance, Silv-O-light Pistons and Icon Racing Pistons.

Their line of KB Pistons are their performance range of hypereutectic pistons targeted at aftermarket performance applications. They are designed for a wide range of engine applications in different piston styles and to suit differing rod lengths.

KB Hypereutectic Pistons are made in the following styles:
Flat Top Pistons & Flat Top 2V for Chev 2V applications
Dish Pistons
Step-Dish Pistons
Step Head Pistons
D-Cup Pistons
Solid Dome Pistons
Hollow Dome Pistons
Hemi Dome Pistons to suit Hemi applications
KB Hypereutectic Pistons are made to suit the following vehicle make's engines:
AMC/Jeep/Eagle

Buick
Cadillac
Chevrolet / GM
Chrysler
Ford
Holden
Oldsmobile
Pontiac
Toyota
Contact our team at Superformance for all your KB hypereutectic Piston needs. We are an Australian supplier for UEM and we can supply any KB Pistons, Silv-O-Light Pistons or Icon Racing Pistons that you may need.
For a look at KB's complete piston range, have a look at their catalogue here:
KB Hypereutectic Pistons Catalogue (.pdf) 26Mb
Please
Contact Us
for information on these products.
---