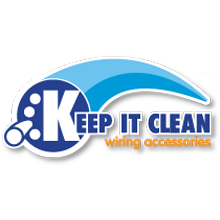 Keep it Clean Wiring
Keep It Clean Wiring are a company in the Hoffman Group alongside their other great brands Autoloc, Zirgo and more.

Keep It Clean specialise in electrical automotive products, with their products being mostly universal fit, they can be adapted to work on almost all vehicle applications.
Here at Superformance we keep a select range of Keep It Clean products on hand and we can source anything we don't have direct from the suppliers. Contact us at Superformance for all of your Australian Keep it Clean Wiring Product needs.

Keep It Clean Product Line includes:
Battery Power Solutions

Digital Battery Charging & Storage
Heavy Duty Battery Disconnects
High-Amp Battery Connections
Removable Key Disconnects
Terminal Top Disconnects

Circuit Protection

​​Circuit Breakers
Fuses
Fuse Holders

Control Modules

Engine Start Activation Control Module
Light Sequencer
Dome Light Delay Controller
Retained Accessory Controller
Gear Indicator Kit
Self-Cancelling Controller
Brake Light Turn Signal Converter Module

Displays

Billet Buttons LED Display
Flasher Display
Switch Display

Electrical Wire

Battery Straps & Cables
Power Wire
Speaker Wire

Harnesses & Sockets

Alternator Harness
Column Wiring Harness
Engine Compartment Harnesses
Fan Wiring Harness
Gauge Wiring Harness
Lighting Harness
Relay Socket & Harness
Relay Socket
Switch Socket & Harness

Lighting

Dome Light
Flush Mount L.E.D. Ghostlights
LED Bedroll Taillights & Spotlights
LED Light Bulbs
LED Tail Lights
LED Tape
LED Turn Signal Indicators
Light Bolts

Push Button Start Systems

Billet Systems
Standard Systems

Racing Switch Panel Systems

Racing Panels
Racing Panels with Battery Disconnect

Relays & Flashers

Flashers
L.E.D. Flashers
Relays

Switches

Brake Switches
Billet Switches 7 Buttons
Dimmer Switches
High-beam Switches
Illuminated & Non-illuminated
Ignition Switches
Switch Cases
Toggle & Rocker Switches
Window & Door Lock Switches

Tools

Digital Volt Meter
Test lights
Wire Cutters & Crimpers

Wire Harness Systems

Custom Street Rod Wiring System
OEM Replacement Wiring Panel Systems
Racing Wiring Harnesses
Sub-Harness Wiring Systems

Wire Management

Billet Door Looms
Billet Firewall Port
Billet Wire Loom
Cloth Tape
Door Contacts
Engine Wire Separator Kits
Firewall Plug System
Modular Door Contacts
Modular Wire Separators
Plastic Firewall Port
Rubber Door Looms
Spark Plug Wires
Ultra Wrap
Ultra Wrap Kits
Wire Loom

Wiring Terminals & Connectors

Bullet Connectors
Butt Connectors
Crimp Cap Connectors
Dimmer Connectors
GM Column Connectors
Headlight Connectors
Headlight Switch Connectors
Ignition Connectors
Ring Terminals
Quick Disconnect
Quick Splice Connectors
Spade Connectors
Weatherproof Wiring Connectors
Wire Tap Connectors
Please
Contact Us
for information on these products.
---