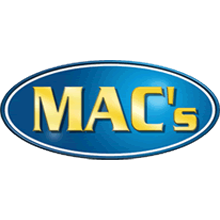 Mac's
Mac's Antique Auto Parts are suppliers of early model Ford Parts / Products. They produce a wide selection of products for specific early Ford Year models, alot of Mac's products are only made by Mac's.
Contact our team at Superformance for all of your Mac's Antique Auto Part enquiries. We are Australian suppliers of all AMac's Auto Parts and products, contact us today and enqurie about Mac's auto products for your early model Ford.

Mac's have parts to suit a large range of early model vehicles including the following years:
Ford 1909-27 Model T & TT Parts
Ford 1928-31 Model A & AA Parts
1932-48 1939-48 Ford | Mercury V8 Parts
1932-47 Pickup Parts
1949-59 1949-59 Ford | Mercury Parts
1958-60 Edsel Parts
1948-79 Ford Pickup Parts
1961-67 Econoline Parts
1966-79 Bronco Parts
1955-79 Ford Thunderbird Parts
1964-93 Ford Mustang Parts
1960-70 1960-70 Ford Falcon | Comet Parts
1962-70 1968-76 Ford Fairlane | Torino Parts
1959-72 Ford | Mercury Passenger Parts
Mac's product range includes:
Body & Sheet Metal products
Brake Systems
Door Components & Parts
Carburettor & Fuel System Components
Engine Parts
Upholstery Components
Transmission & Clutch Products
Electrical & Wiring Products
Lighting & Horn Products
Interior Products
Please
Contact Us
for information on these products.
---