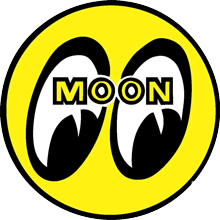 Mooneyes
The infamous Moon logo is now more than 50 years or half a century old. The name epitomises Street Rodding. popular products from years gone by that are still popular today include Aluminium Fuel Tanks, Spin Aluminium Wheel Discs commonly referred to as Moon Discs and more. You will find Moon products in Drag Cars, Boats, Street Rods, Dry Lake and Land Speed Cars. Dean Moon started manufacturing parts when at High School and his legacy continues today.

For all your Mooneyes needs in Australia contact our team at Superformance, we carry a select range of Moon products on our shelves, as well as being able to source and supply any product direct from Mooneyes in America. Contact us today and enquire about Mooneyes products for your vehicle.

To see the products we can supply, view the Mooneyes website here.

Mooneyes Product list includes:
Moon Wheel Discs & Custom Hub Caps
Moon Fuel Tanks & Accessories
Moon Valve Covers, Breathers & Accessories
Mooneyes Air Cleaners in a range of styles
Oil Pans
Timing Covers
Lake Exhaust Pipes
Steering Wheels
Port-O-Walls to give your tyres the old school white wall look.
Mirrors, exterior and interior
Pedals - including Mooneyes foot shaped range
Stylish Shift Knobs
Floor Mats
Speedmaster Series wheels are made by Mooneyes
Clothing, Apparel and other Novelty Mooneyes products

Please Contact Us for information on any Mooneyes product.
---