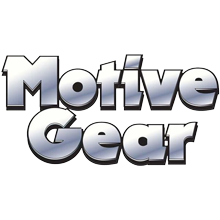 Motive Gear
Motive Gear manufacture aftermarket high quality drivetrain products for the automotive industry. Contact our team at Superformance for all of your Motive gear product needs. We are Australia's leading supplier of Motive Gear products and we can source and supply any product you may need for your vehicle.

Motive Gear produce differential Crown wheel and pinion kits for an extremely large range of applications, Motive Gears crown wheel and pinions cover the majority of Differentials for AMC applications, Chrysler applications, Dana applications, Ford applications, GM applications and Toyota applications.
Refer to Motive Gear's differential catalogue below to find the right crown wheel and pinion for your vehicle.
Motive Gear Crown Wheel & Pinion Catalogue (.pdf) 10Mb

Motive Gear also produce replacement products for Manual Transmissions & Transfer cases for a wide range of applications. Find your specific application in the catalogue below:
Motive Gear Manual Trans & Transfer Case Catalogue (.pdf) 7.4Mb

Please Contact Us for information on these products.
---