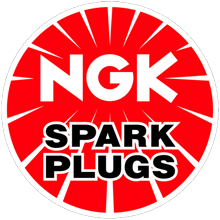 NGK Spark Plugs
NGK Spark Plugs are a premium spark plug manufacture that produce quality and precise automotive spark plugs. NGK also produce Glow Plugs, Oxygen Sensors, Ignition Leads and Ignition Coils for a select range of applications.

NGK Products are to suit a wide range of applications used in Australia including: Ford, Holden, Chevrolet, Pontiac as well as most common Japanese imported vehicle makes Toyota, Subaru, Hyundai, Nissan, Mitsubishi and more.
NGK's Spark Plug range includes the following types:
Standard OEM replacement Spark Plugs
Racing Spark Plugs
Pro-V Performance Spark Plugs
Laser Iridium OEM Style Spark Plugs
Laser Platinum OEM Style Spark Plugs
Iridium IX Ultimate Performance Spark Plugs
G-Power Superior Performance Spark Plugs
V-Power High Performance Spark Plugs
for all of your NGK Product needs, contact our team at Superformance. We are Australian suppliers for NGK and we can source & supply any NGk Spark Plug or other product required for your vehicle.
Please
Contact Us
for information on these products.
---