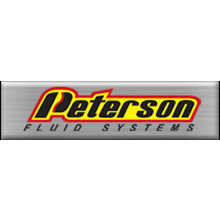 Peterson Fluid Systems
Peterson Fluid Systems are manufacturers of aftermarket fluid products for automotive applications. They produce a large range of products for universal applications and specific engine and vehicle make applications, contact our team at Superformance for all your Peterson Fluid Product needs, we are Australia's leading supplier for Peterson products and we can source & supply any product required for your vehicle.

Peterson Fluid Systems Products include:
Oil Pumps & Accessories

Dry Sump Oil Pumps
We Sump Oil Pans
WetVac Pumps
Rear End Oil Pumps
Cam Drive Oil Pumps
Oil Pump Mount Plates, Pump Fittings & Accessories

Oil Pans

Wet Sump Pans
Dry Sump Pans
Oil Pan Pickups

Oil & Fuel Filters

Oil Filters -

400 Series

Fuel Filters -

400 Series, 600 Series, 700 Series
In Tank Fuel Filters
Carb Filters
Scavenge Filters
Remote Filter Mounts

Oil Tanks & Accessories

Dirt Late Model Tanks
Drag Oil Tanks
Lightweight Tanks
Filter Tanks
LS7 Tanks
Tank Mounting Brackets
Tank Caps
Tank Fittings
Breather Tanks
Oil Tank Heaters
Screw-In Breathers

Drive Kits & Accessories

Spline Drive
Gilmer & HTD Pulleys
Mandrels
Spacers
Washers
V-Belt Pulleys
Pulley Flanges
Gilmer & HTB Belts
Mandrel Bolts

Engine Accessories

Water Neck Risers
Oil Filter Adapters
Input Oil Adapters
Manifold Spacers
Valley Riser Tubes
Water Necks
Oil Filter block Offs
Pop Off Valves
Oil Pressure Fittings
Vacuum Regulators

Plumbing

Inline Temp Ports
Ball Valves
AN Wrenches
Flow Meters
Fuel Return Blocks
Adapter Fittings
Oil Spray Dist Blocks
Oil Return Manifolds
Billet Manifolds
Oil Coolers
Please
Contact Us
for information on these products.
---