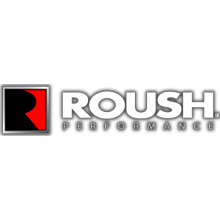 Roush Performance
Roush Performance are a Ford specialist performance parts shop that produce impressive Engine's, Superchargers for the late model Mustang's including RHD kits, Body Kits for Late model Mustangs, Suspension Systems, Exhaust Kits, Brake Upgrades and more.

---

Roush Ford Engines: 302W, 351W, FE and Coyote 5.0L
Roush Produce a range of Ford Performance Crate Engines in the following sizes:

302W Based - Ford Windsor Small Block Short Deck V8 Engines
331 ci SRX | 331 ci SRXE | 347 ci SR | 347 ci R | 347 ci IR

351W Based - Ford Windsor Small Block Tall Deck V8 Engines
427 ci SRX | 427 ci SRXE | 427 ci SR | 427 ci R | 427 ci IR

Ford FE V8 Based Engines
511 ci SR | 511 ci R | 511 ci IR

Ford Big Block V8 Engines
588 ci SR | 588 ci SRE | 588 ci R

Ford Coyote 5.0L V8 Engines
5.0L IR | 5.0L SR | 5.0L RSC
---

Roush Ford Mustang Supercharger Kits - 3 Stages
Roush are the leading manufacturer of Ford Mustang Superchargers, with their superior design even the guys at Ford Racing Performance are offering a Roush Supercharger as an upgrade on their Mustangs.
Right Hand Drive adaption kits are available for the Roush Supercharger's so that they will work over here in Australia on the newer model 2015/2016/2017 Ford Mustang RHD vehicles.
The Supercharger kits come in different stages/phases to give a range of options for customers.

Phase 1 Supercharger Kits for 2015-2017 Ford Mustang calibrated to ~ 670HP with 545 ft-lb of Torque.
Phase 2 Supercharger Kits for 2015-2017 Ford Mustang calibrated to ~ 727HP at 6850 rpm with 610 ft-lb of Torque at 5000rpm

The Stock Mustangs come out around 435HP / 400 ft-lb Torque; So it is a very large increase in power and the best way to get performance out of your late model Mustang.
Contact our team at Superformance for more information on a Roush Performance Supercharger in Australia.
---

---