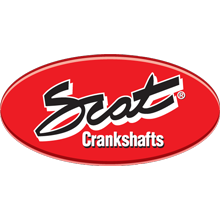 Scat Crankshafts
Scat are an aftermarket automotive manufacturer of Crankshafts, Connecting Rods H-Beam and I-Beam options, Flexplates, Harmonic Balancers/Dampers and Complete Rotating Assemblies. Scat are renowned in the automotive industry for their quality products and innovative designs. Scat have been manufacturing crankshafts for over 60 years now and are our first choice when it comes to Crankshafts in our engine builds.

Here at Superformance we are Australia's leading suppler of Scat Crankshafts and other products, we use Scat Crankshafts in our engine builds and we keep on hand a large range of Scat products for common engine applications such as Ford and Chevrolet. We can also source any Scat product required for your vehicle. Contact us today and enquire about Scat Crankshafts or other Scat products for your vehicle today.

Scat Crankshafts are produced with a lot of options to suit a varying range of vehicle applications including: Chevrolet Small and Big Block, Chevy LS-1, Ford Windsor & Cleveland, Ford Vintage, Ford FE, Chrysler and Pontiac. Scat's sport compact range is available for Honda, Nissan, Subaru, Mitsubishi and more applications. Contact our team for individual application options.
Scat Crankshaft sample below
Please
Contact Us
for information on these products.
---