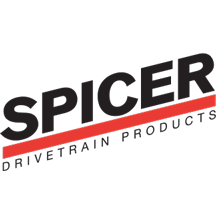 Spicer
Spicer are manufacturers of aftermarket and OEM replacement Dana Spicer and other Differential/Axle drivetrain products. Spicer is a large manufacturer of products with manufacturing facilities all over the world, their drivetrain products are renowned for performance and durability. Spicer produce some of the best quality products in the whole automotive industry.
If you need any Spicer products then contact our team at Superformance, we are Australia's leading supplier of Spicer drivetrain products. We keep a select range of Spicer products on hand in our Brisbane based store and we can also source and supply any Spicer product required. Contact us today and enquire about Spicer products for your vehicle.
Spicer Products:
Ring & Pinion Kits
Axle Overhaul Kits
Axle Bearing Kits
Spicer AdvanTEK Axle's
Bolt in Complete Dana Differentials Dana 30, Dana 44, Dana 60, Dana 70 and Dana 80 Models available.
Front & Rear Axle Shaft Kits
Differential Covers for Dana applications. Available in a OEM replacement option, Offroad option and a Finned option
Bearing Differential Rebuild kits
Nickel Chromoly Axle Shafts
Replacement Parts for Front and Rear Axles
Axle Shaft Assemblies
Ford 9" Differential Third member / Center Housing's available
Spools
Driveshaft Assemblies
U-Joints & U-Joint Kits
Driveshaft Yoke
Powershift Transmission and replacement parts
Hydrostatic Transmission / Gearboxes and replacement parts
Mechanical Transmissions and replacement parts
Transfer Cases
Torque Converters
Spicer Central Tire Inflation system - allows the adjusting of tire pressures on the go without leaving your car seat.
Synthetic Grease Lubricants
Transmission and Gear Axle Oil
and more
Please
Contact Us
for information on these products.
---