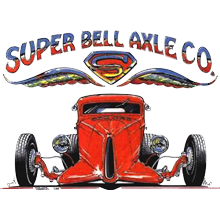 Superbell Axle Co.
Superbell Axles are the leading Street Rod axle manufacturers for more than 40 years. Superbell was one of the first manufacturers to develop a dropped tube axle for a stock application, since it's beginning Superbell has developed several combinations of Axles with varying widths, perch bosses, and kingpin applications to suit a large range of Hot Rod year models.

Here at Superformance we have been supplying Superbell Axle's to our local Australian and International customer base since the beginning of our Street Rod / Hot Rodding days. We still use Superbell Axle's on our Hot Rod builds to this day as they are the best Axle product available in the Street Rodding industry. We are Australia's leading supplier of Superbell Axles, we can source and supply any Superbell Axle product required for your vehicle. Contact our team today and enquire about Superbell Products for your vehicle or visit our Brisbane based store located at Capalaba.

Superbell is famous for its Four Inch / 4" Dropped Axles, they are available in Cast ductile Iron or Aluminium finish, in an I-Beam or Tubular style. Plain axles, polished axles, with no holes, round holes or oval holes Superbell makes them all. Suicide Axle and Solid Axle options available.

Superbell has a large range of products to suit 1928 to 1940 Early Ford Hot Rod's / Street Rod applications. Including 1928, 1930, 1931, 1932, 1933, 1934, 1935, 1936, 1937, 1938, 1939, 1940 Sedan and some Truck models.

Superbell Product's include:
I-Beam Axles
Aluminium I-Beam Axles
Tube Axles
4-Bar Kits
Complete Front End Kits - with varying axle options
Hair Pins
Suicide Steering Arms
Suicide Batwings
Suicide Front End Kits
Spindles
Spindle Nuts, Washer Kits and Spindle Stop Nuts
King Pins
Spring Perches
Lower Shock Mounts
Steering Arms
Tie Rods, Drag Links and Steering Dampners
Super Stopper Disc Brake Kits
Power Stopper Front brake Kits
Spindle Mount Disc Brake Kits
Basic Brake kits
Disc Brake Conversion Kits
Finned Aluminium Backing Plates
Dust Shields
Calipers
Braided Brake Hose Kits
Replacement Brake Bearing Kits
Prop Valves & Residuals
Through the Frame Fittings
Power or Manual Brake Assemblies and Parts
Please
Contact Us
for information on these products.
---