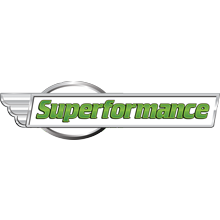 Superformance
Over the years our team at Superformance have designed and produced a unique range of products that we offer to our customers. Including custom Chassis Builds, Custom Turn-Key Engine Builds, Transmissions, Differential's, 1923 T Bucket Fibreglass components, Fuel Tanks, Roll Cages, Pedal Boxes, Fibreglass Cycle Guards, Steel Reverse Cowl Scoops and many more.

We offer a large range of 1923 Ford Model T components including chassis packages, fibreglass bodies, pickup beds, grille shell's, floors with inbuilt transmission tunnels, dash pieces and more.

Our Steel Reverse Cowl Scoops are an ideal addition to any Street Machine or Muscle Car Enthusiast looking to gain some height in their engine bay, or simply to improve your vehicles look.
The Cowl Scoops are made in two different height sizes being 2.5" inches high and 5" inches high. Both our scoops are designed with excess length so that they can be cut down to length to fit different vehicle applications. The Reverse Cowl Steel Scoops cans be applied to a vehicle in a number of ways depending on preference; including Bolted-on, Welded-on or Bonded-on.

Our Fibreglass Cylce Guards have been designed in a range of sizes to suit all Hot Rodders needs. The Cycle Guards are a great addition for any T-Bucket, Fenderless Hot Rod, Hi-Boy Hot Rod or Motorcycle application. See below for available sizes or contact our helpful team and enquire about our Fibreglass Cycle Guards.

Please Contact Us for information on any of our products.
---