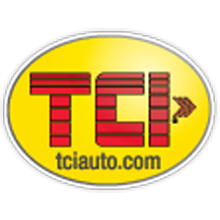 TCI Auto
TCI Auto are manufacturers of aftermarket Transmissions, Torque Converters and other related Drivetrain products.

TCi Auto's Transmissions and Drivetrain products are designed to suit a large range of applications including: AMC/Chrysler, Ford C4, Ford C6, Ford AOD/AODE/4R70W/5R55, Ford E40D/4R100, GM/Chevrolet Powerglide, GM/Chevrolet Turbo Hydramatic, GM/Chevrolet 4L80E/4L85E
700-R4/4L60E/4L65E, GM/Chevrolet 200C/200-4R and more.

For all your TCI Auto Transmission and Drivetrain products contact our team at Superformance, We are Australia's leading supplier of TCI Auto components, we stock a range of their products and can source any other TCI part required. Contact our team today and enquire about TCI Auto Transmission/Drivetrain components for your vehicle.
TCI Auto Products include:
Transmissions
Transmission Packages
Torque Converters
Transmission Accessories
Transmission Internals
Transmission Mounting
Valve Bodies
Servicing parts & Accessories
Electronics
Flexplates / Flywheels
Fluids
Shifters
Engine Products
Cooling Products
Drivetrain Tools
Please
Contact Us
for information on these products.
---