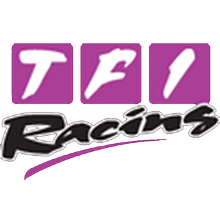 TFI Racing
TFI Racing is one of many brands under Naparts that produce a large selection of products for engine dress up applications and aftermarket automotive engine replacement parts.

For all your TFI Racing product needs visit our Brisbane based Capalaba store where we keep a large selection of their products on hand, or contact us for inter-state/international inquiries. We are Australia's leading supplier of TFi Racing components, we can source & supply any TFi Racing product to anyone in the world. Contact us today and enquire about TFI Racing products for your vehicle.

TFI Racing Products:
Engine Dress Up Products
Oil Filter Adapters / Oil Filter Bypass / Oil Filter Remote Relocation kits
Coil Brackets
Plugs, Adapters, Reducers, Tee pieces and other replacement Fittings
Return Springs
Braided Sleeving Kits
Alternator Brackets
Carburetor Spacers
Water necks / Thermostat Housings
U-Bolt Kits
Wheel Spacers
Air Cleaners
Valve Covers
and more.
Please
Contact Us
for information on these products.
---